2019-10-10
Cycling Onehunga to Auckland Central
This is a nice cycle-centric day-trip around Auckland City starting and ending at Auckland's main transport hub, Britomart. I did this with a friend of mine in mid winter. The following map (credit to OpenStreetMap for the base image) shows the route.
Train out to Onehunga
This section is shown by the red line on the map.
Boarding the train at Britomart (A) was no problem. Some wagons have a lowered section suitable for bicycles and there is no extra charge for the bicycle; just swipe on at Britomart, pass through the wide gates onto the platform and then swipe off at Onehunga (B).
Along The Onehunga Foreshore
This section is shown by the orange line on the map.
There is an industrial belt between the Onehunga train station and the foreshore and so it is best to push the bicycle down to the waterfront (C) to avoid any entanglements with trucks and cars.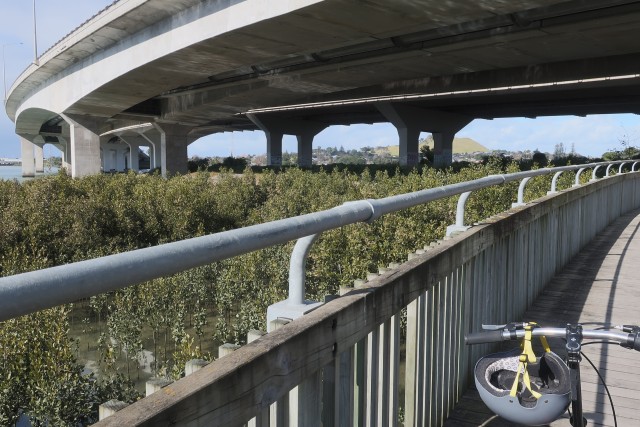 Passing under the bridge to Mangere, one can now cycle along the foreshore. There is quite a hilly section up to Hillsborough (D) along a quiet road and then the cycleway starts again. Here I met up with my friend.
Hillsborough to Waterview
This section is shown by the green line on the map. The route largely follows the SH20 Motorway.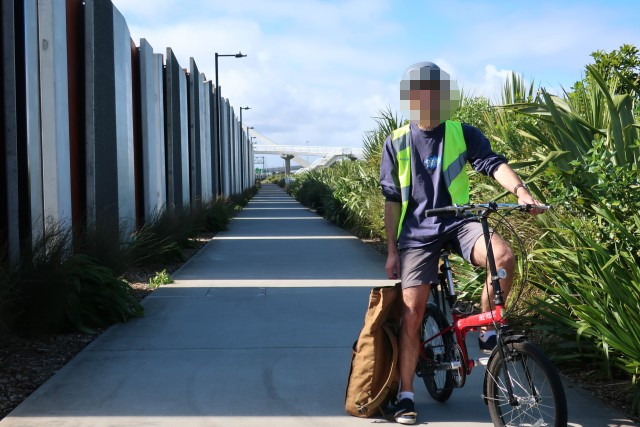 There is a sound-dampening wall between the cycleway and the motorway and the path is well formed and nicely landscaped. We eventually veered off-course across the motorway to check out the recently renovated Walmsey Park (E).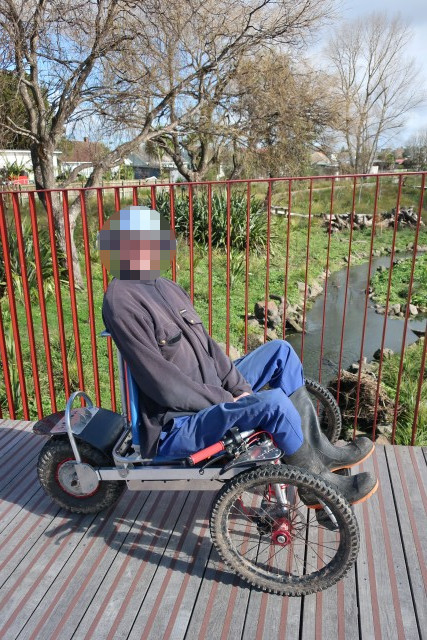 This is a bridge over Oakley Creek that passes through the park. My friend has a disability that prevents cycling and being a talented engineer has self-built a clever battery-powered buggy for such expeditions.
Crossing the motorway again we continued along the motorway as it plunged into tunnels. We carried on over the top through various parks until we came to Unitec Institute of Technology (F) where I parted company with my friend.
Western Motorway
The path continues along the blue line.
I carried along the Western Motorway cyclepath in the direction of the centre of the city to Newton (G) where I crossed to the Nelson Street Cycleway which goes on a disused part of the motorway to the central city.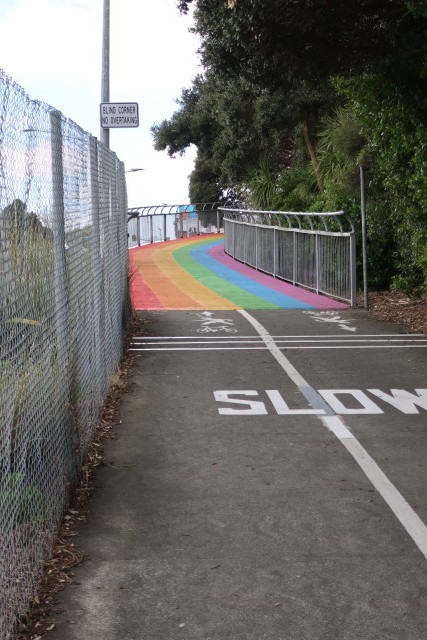 I then pushed my bicycle over to Franklin Road and from there (mostly off road) down Franklin Road, across Victoria Park, through Wynyard Quarter, along the waterfront back to the Britomart Transport Centre.
Paths
Most but not all of the trip was on bike paths and it was something like four hours cycling. A great way to spend a winter's day. Bike Auckland has a number of brochures and maps of cycle paths in the city.